Get your free account now – register and log in
If you want to know how to create an account for Crazypatterns and how to log in, please keep on reading. It's just a matter of minutes and the membership itself is free of charge. Most of our e-books cost a few dollars, but we also have lots of e-books for free. Moreover, the blog and the community are free. You can have fun here without spending any money, but you'll miss a new dimension of DIY, if you don't create an account and top up your prepaid deposit.

Click on the button "Register for free" in the upper right corner. Please fill in your first name, last name, e-mail address, your password and your location – and don't forget the captcha. Please take a look at our terms and conditions. You can find the link for reading the terms above the blue button for "Create Account".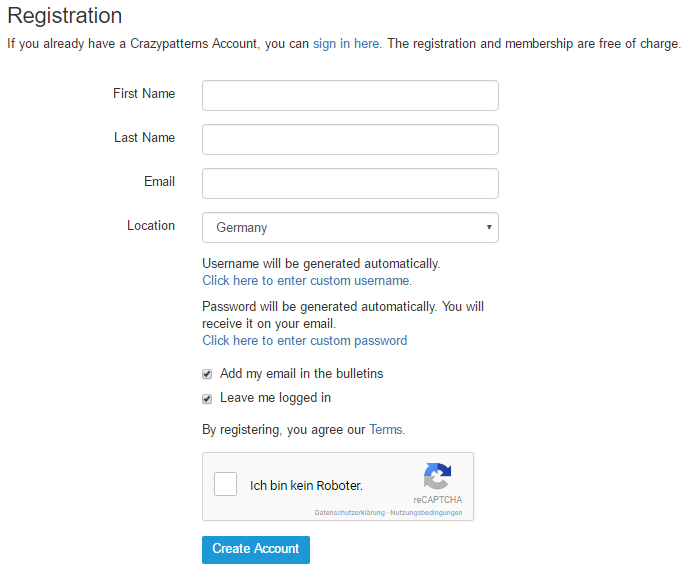 Hint: If you already have created an account, please use "sign in here" as shown in the picture above to sign into your account without creating another one. If you forgot your password, please contact our support here https://www.crazypatterns.net/en/contacts.
If everything worked out with your new account, you'll get a green highlighted success message saying "It worked"


and a hint to check your mailbox.

There should be an e-mail from Crazypatterns Mail <no-reply@crazypatterns.net> with further instructions and a link to confirm your account inside. Please click on the link to complete your registration.
Didn't get our mail?
Please wait for a few more minutes, sometimes the mail takes some time. Please check on your SPAM-folder, too. Please make sure you have used the right mail address and didn't misspell anything by accident.
Need technical support?
If you don't get our mail with your activation link at all or experience any problems while registering and afterwards, please don't hesitate to contact our support here https://www.crazypatterns.net/en/contacts.
Log in
You can either click on "Leave me logged in" while registering as shown in the picture above or log in every time you come back to Crazypatterns. To do so, please check the upper right corner.

Enjoy your visit.