How to buy and download patterns
With the help of screenshots, this text explains how to buy and download patterns. It illuminates both unzipping the files as well as searching for and opening them directly in the browser.
Due to the numerous screenshots, this text appears rather lengthy. However, reading it through or scrolling down is worth the effort because it should answer all questions about downloading patterns.
Login and creating an account
To download both free and paid patterns, you need to log in with your username and password.

Recharge your Crazypatterns account
Before you can buy patterns, you have to charge your Crazypatterns account with money or inform yourself about alternative payment methods. You get a 5% discount on a pre-paid account, which is worth it in the long run. Consult the Help Text "Charge prepaid-account" if you need more information on charging your pre-paid account or about other payment methods.
Search and choose patterns
You will find a large selection of cool patterns in our shop. Choose your favorite!
Six patterns are displayed on every category page to simplify scrolling.

There are a couple of things you will see at the first sight even in preview mode: The image, the name of the pattern, its price (for prepaid accounts) and the name of the provider. This helps you to compare different patterns easily. If you want more information on a specific pattern, simply click the preview image or the title. This will redirect you to the product page, where you will find all details about the pattern.
Tip: Prices shown on the preview page are always for pre-paid accounts. You can find the price for users without a pre-paid account in the top right corner of each product page.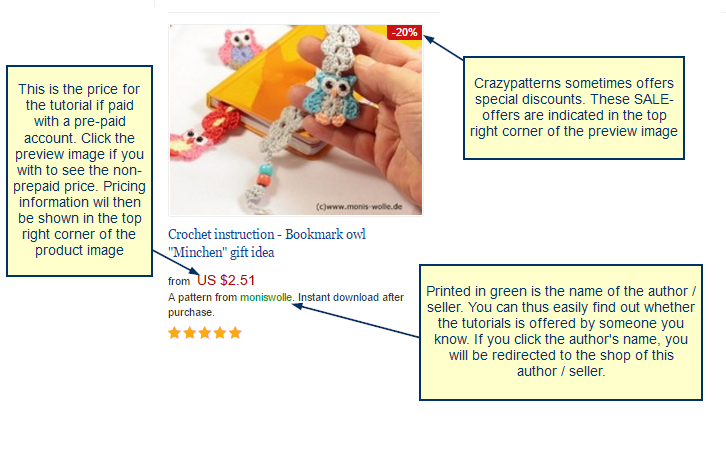 SALE-Offers are very popular on Crazypatterns. We will inform you whenever we launch a new promotional offer. You should thus read the Crazypatterns-Newsletter or check the forum regularly.
Example of a pattern which is currently not on SALE: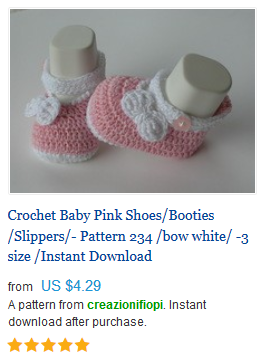 Example of a product page with explanations
This is the top section of a product page including explanatory notes.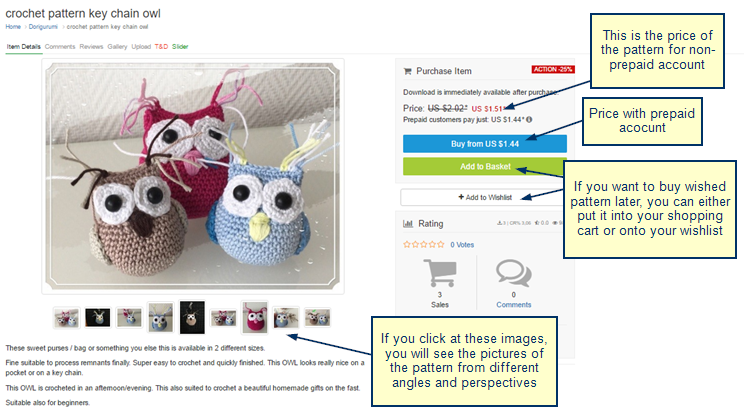 If you would like to find out what file format your pattern is, just click "More" right below the "Rating" block.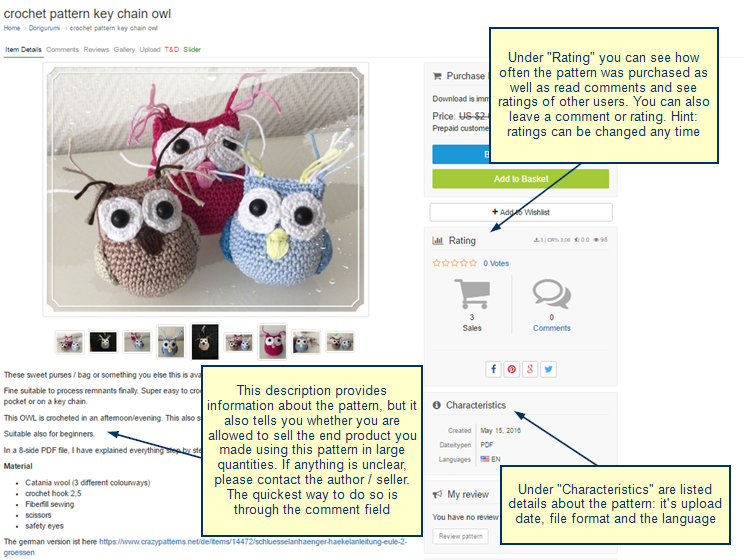 After clicking the blue button, you will be shown two boxes with different payment options to choose from. Click the corresponding blue button once you made your decision.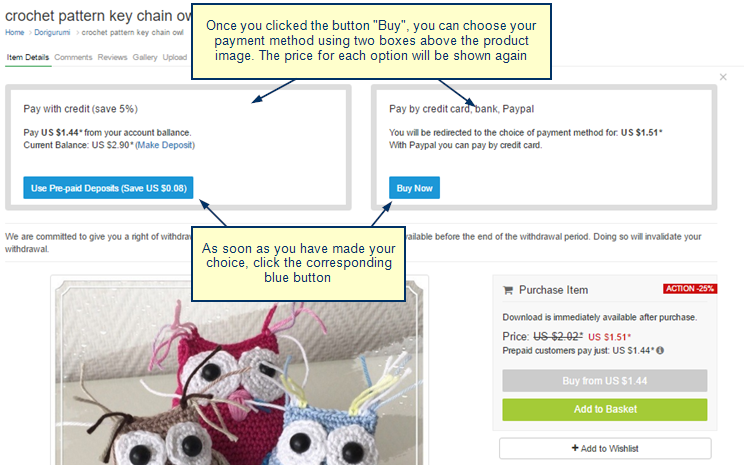 You will have to confirm your purchase once again after you click the blue button. After that, the money will be debited immediately and you can download your pattern right away.
Purchased: How to download and unzip your pattern
If everything went right, you will see a green notification informing you about the success of your purchase.
Below that you can find a download button as well as a button to search the pattern. This function can come in handy if you are using a device without an unzipping application or if you want to download separate elements of the pattern.

You can always test or use both options. It is also possible to re-download and search patterns you already purchased at no additional cost. You cannot "break" anything, so feel free to play around a bit.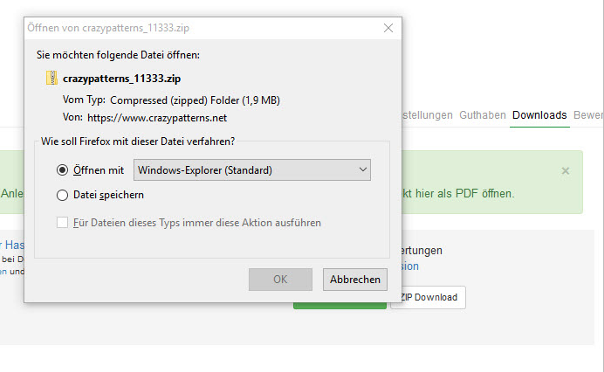 Clicking the "ZIP-Download" button will open a small pop-up window. There you can choose what to do with the file. Depending on your software, you can choose between "Open With" or "Save File". In case your computer already has unzipping software installed, you will be offered to open the ZIP-file directly with this program (as seen above).
In case direct unzipping does not work:
Alternatively, you can first download the file using the option "Save file". Right click the file once the download is complete. The right click will open a small menu with further options. If you find something like "Unzip File" there, you already have an unzipping application.
Tip: In case you do not have an unzipping application installed, you can download one from www.7-zip.de for free.
Unzipping a downloaded file – Option 1
This image shows how to right click the downloaded file and open it using "Unzip File" (this only works if you have a ZIP-application installed). If you choose the "Unzip file" option, you can, if necessary, define the place where your file will be saved. The option "Unzip here" unzips the file into the same folder where the downloaded ZIP-file is located.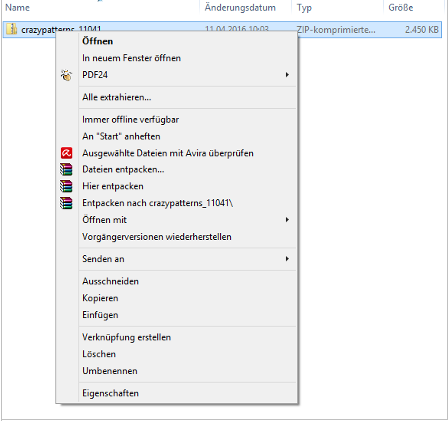 Unzipping a downloaded file with 7-Zip
If you have 7-Zip installed, simply click "7-Zip" in the menu and then click "Open archive" or "Open" as shown in the picture. (There are several unzipping applications installed on the computer from which the screenshots were taken for testing reasons, so do not be confused if your menu looks different.) If necessary, you can change the storage location in "Extract file" or "Unzip files". If you click "Extract here" or "Unzip here", your file will be saved in the folder where the zip-file is located.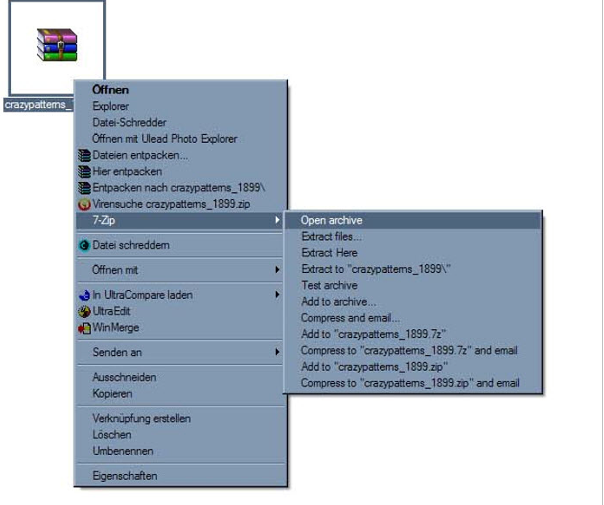 After that, you can open your unzipped file normally and without special circumstances.

If you do not have a PDF-Viewer, you can download one for free at http://get.adobe.com/de/reader.
Your opened PDF-file will look as follows: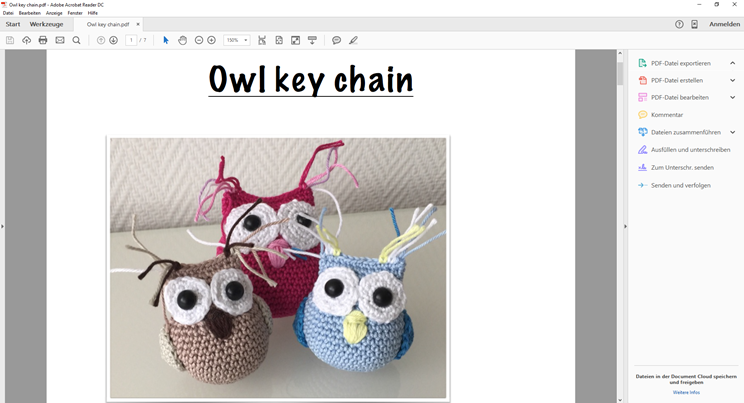 Search pattern online before downloading
If you do not have an unzipping application or do not want to install one, simply click "PDF Browse" as shown in the graphic below. This lets you open the files directly.

Do not click the light download button if you want to search the files before starting the download. Instead, click the green "PDF Browse" button. This will show you all of the comprised files of the pattern in a table.

This is a second example, showing a case in which one downloaded pattern contains several files.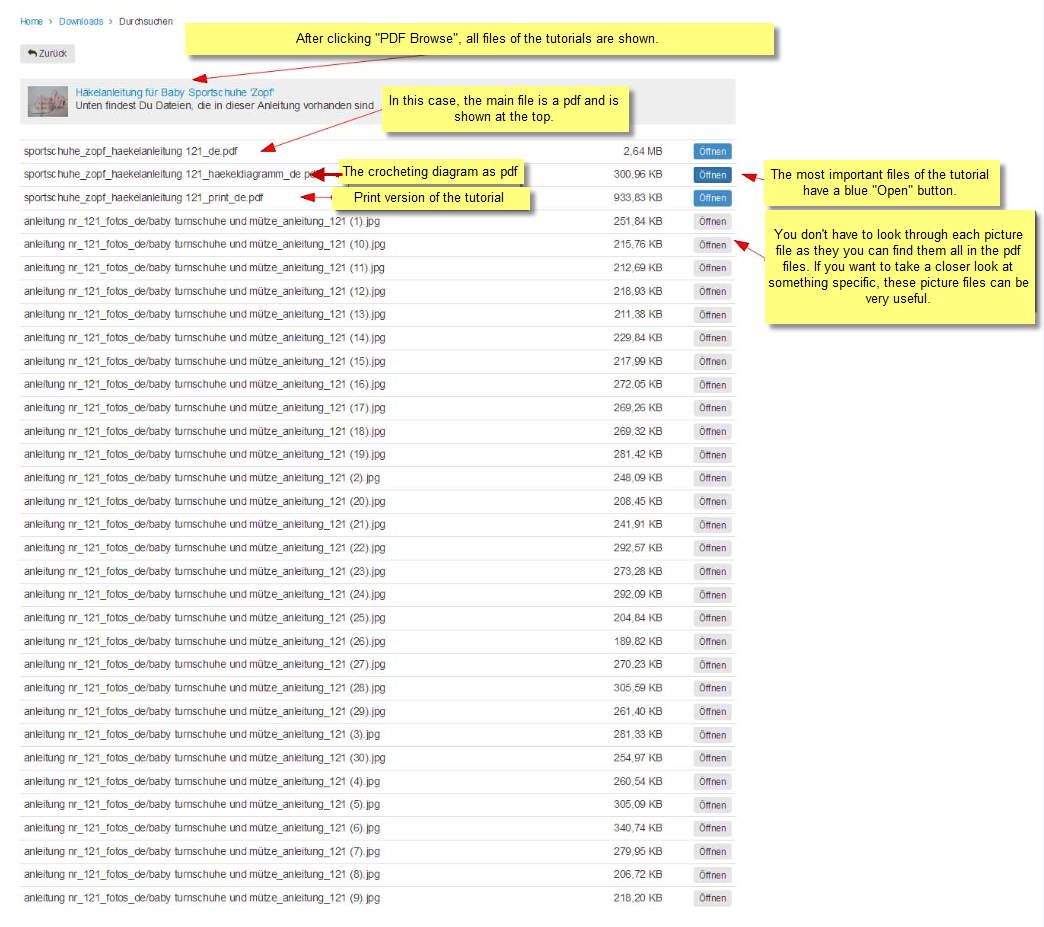 The most important files are always shown on top of the overview and have a blue "Open" button on the right. All other files can be clicked using a grey "Open" button.
The size of each file is also displayed.
Opening the main file
Once it is clicked, the main file is usually opened directly in the browser and shown in the PDF-Viewer. If you do not have one, you can download one for free at http://get.adobe.com/de/reader.
In full screen mode (click "F11" on your keyboard to get there, use "escape" to get back to normal view), this looks roughly as follows: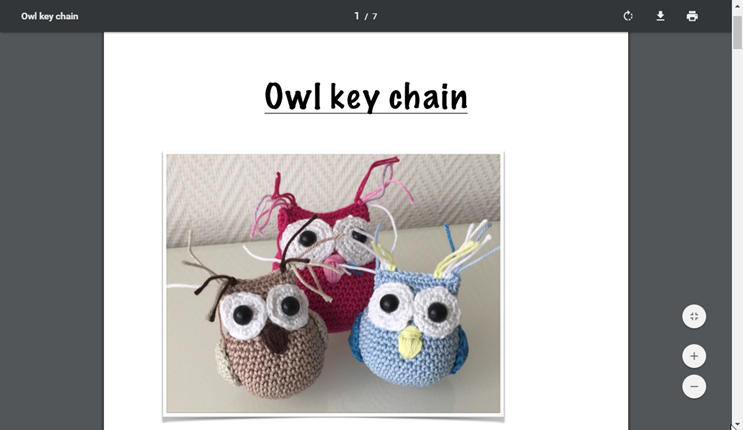 You can now read your pattern normally and use it directly on your screen.
The crocheting diagram from the second example can also be opened easily.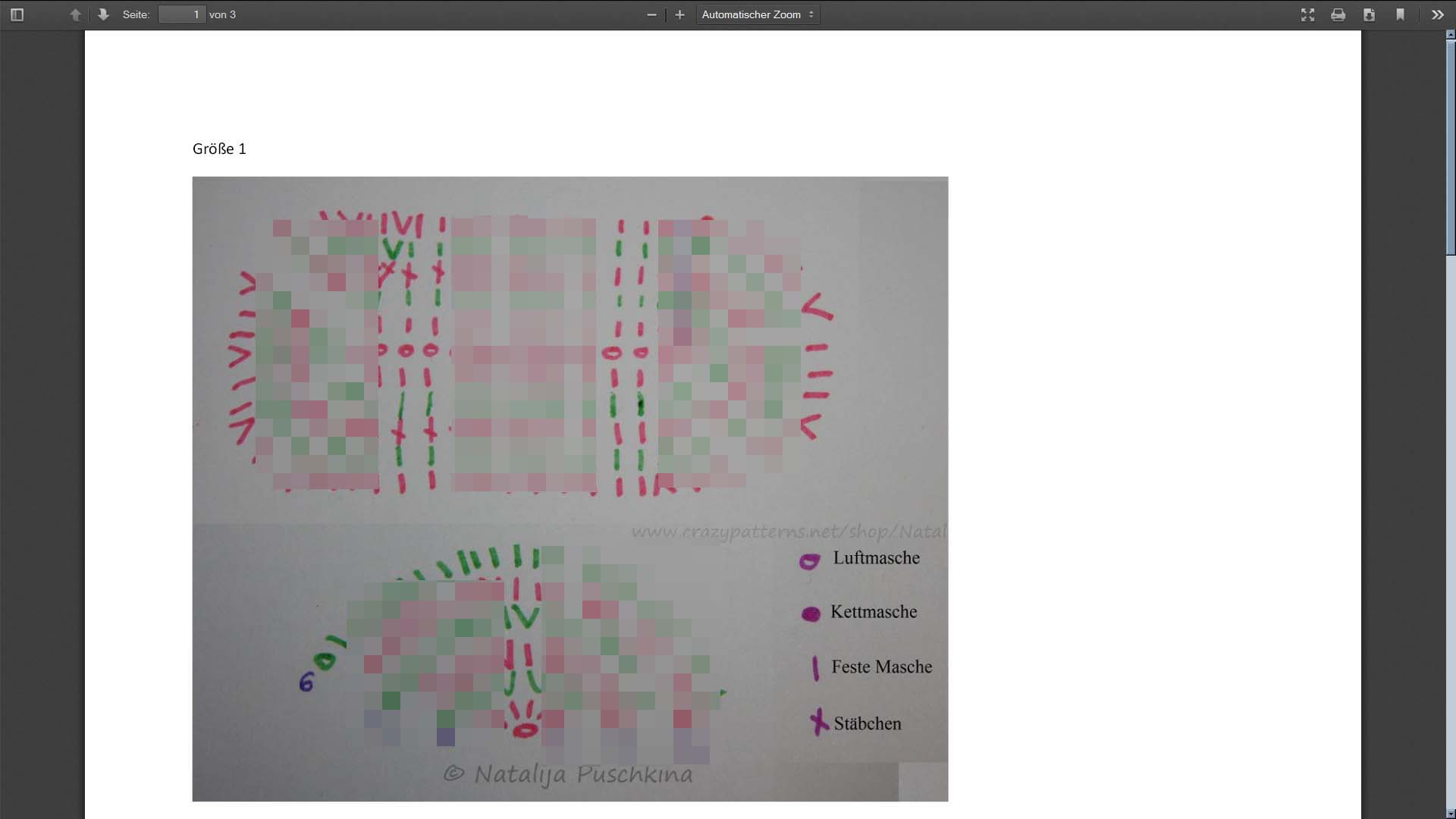 You can also reach the print version of your pattern (if available) using the blue button.
Tip: The print version is designed in a way that will not use the toner or ink cartridges too heavily.
Tip: Want to try another option?
You can always switch around between the options "ZIP download" and "Search PDF" using either the back/forward buttons in your browser or with the following link: https://www.crazypatterns.net/en/users/downloads. This will direct you to a page where all of your purchases are listed and can be re-downloaded. Alternatively, visit your profile and click "Downloads" from there.
Opening and unzipping files on your iPad
You will have to download a suitable PDF app from the App-Store to be able to open PDF-Files from the Crazypatterns-Shop. We recommend "iBooks" or the "GoodReader" app. After having installed this app, files can be opened easily using the option "Open in".
Tip: Lost your pattern? – No problem!
You can find all of your previously purchased patterns at https://www.crazypatterns.net/en/users/downloads. There, you can re-download them in case you lost them.
You can also get to your downloads via your Profile  Downloads.
Another possibility is to visit the product page of the pattern you lost. If you have already purchased this pattern, the following will be displayed to the right of the product image instead of the price: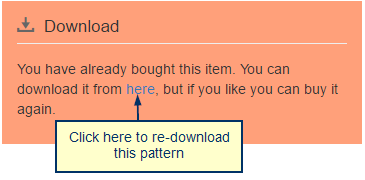 Simply click "here" as shown in the image to re-download the pattern.
When do I in fact have to re-purchase the pattern?
It can happen that you have to purchase a pattern again in exceptional cases:
If you want to share the pattern with others
Please be kind and purchase the pattern again if you want to share it with friends. Compiling pattern takes a lot of time and should be rewarded financially.
Tip: Please follow the specifications given in the pattern, link back to the shop of the specific vendor and only sell the end product online or at markets if the product text explicitly allows you to do so.
Users who only use the pattern for private purposes and without wanting to sell the end products do not have to worry about this.

If you want to sell the products you made using one of our pattern, please contact the specific provider of the pattern you used.
If the number of items you are allowed to sell is limited either in the product text or the pattern itself, it might make sense to purchase the pattern several times. This will allow you to sell more of the same items. Example: The product text of a pattern states that you are allowed to sell 10 copies of the item made using the pattern. If you want to sell 20 copies, you purchase the pattern twice and will thus have paid the license to sell 10 more copies of the item.
Tip: If you have any questions, use the comment field or send a private message to the provider of the pattern.
Download and unzip a free pattern
You can find all free patterns using the following link: https://www.crazypatterns.net/en/categories/free
If you like one of the free patterns, click the preview image in order to get to the product page. Here is a free Amigurumi snail by zica as an example.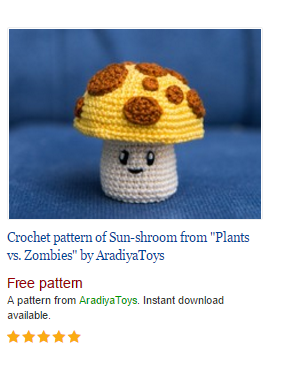 The product page with download options is more detailed and looks as follows: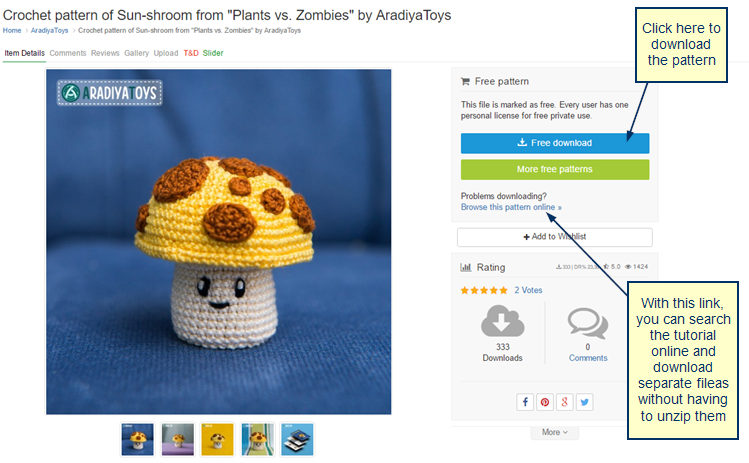 Click the blue "Free download" button to the right of the large product image in order to download the pattern. After that, proceed as described above for the payed patterns. You can either unzip the file right away or save it first.
Alternatively, you can search this pattern using the blue link (see image above; right under the green download button). This lets you download single files without having to unzip them first.
Do you have more questions or need help?
Our support team is happy to help if you have any technical problems: Send an e-mail to support@crazypatterns.net or use our contact form.
We wish you a lot of fun with Crazypatterns :-)